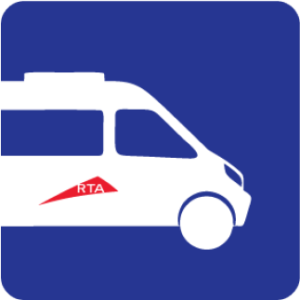 Service Information
Service Zone
Al Barsha
Al Nahda
Dubai Academic City
Dubai Silicon Oasis
Service Timings
Mon–Thu : 5am-midnight
Fri & Sat : 5am-1am
Sun : 10am-1am
Fare Information
AED 5 for single rides within the zone
AED 7 for single rides interzone
AED 4 for each additional passenger *
*upto 6 people
FAQ'S
How does the service work?
You can request a ride, select your pick-up and drop-off points and pay directly using your credit card through an app (for iPhone or Android) or your Nol Card. You will join other passengers are travelling in the same direction as you.
Where do I get picked up and dropped off?
The service operates from corner to corner within the zone and connects to nearest metro station, so there are no fixed routes or bus stops. We'll pick you up from a location that is close to you and drop you off within of your requested destination. Depending on your location, we may ask you to walk a few meters. The App will guide you to your pick up point. This helps us ensure that even with multiple pickups, there are no lengthy detours.
Are these vehicles safe?
Yes, these vehicles are registered at RTA.
How can I register & download the app?
Bus on Demand app is available for both iPhone and Android. It's free to download in the App Store and Google Play store, so get riding today.
How can I register?
If this is your first time using the app, you'll need to create an account before you can log in and book a ride.
STEP 1: Click on the 'Sign Up' button on the home screen of the app.
STEP 2: Enter the requested information on the first page of this screen.
STEP 3: Click 'Next' to move to the second page. If you were referred by a friend, you can enter their personal promo code into the 'Promo Code' box by clicking on the blue 'Redeem your promo code' option.
Once all of this is completed, press 'Join' and you'll be ready to ride.
Why does this service need my credit/debit card number?
When you sign up for Bus on Demand, we ask you for a credit or debit card so that you never need to worry about having cash. You can use any credit/debit card to pay for a ride or you can pay by Nol card. Each time you take a ride we automatically charge your card and the amount gets deducted.
Can I book Dubai Bus on Demand from anywhere to anywhere in Dubai?
No, Dubai Bus on Demand is available in Al Barsha, Al Nahda, Dubai Silicon Oasis and Dubai Academic City zones.
Can I request a specific time for my pickup?
Bus on Demand operates on-demand only. Just book a ride a few minutes before you need to leave, and we'll connect you with a bus in real-time.
How do I know which bus is mine?
When you book your bus, we'll list the information about the bus coming to pick you up directly on the ride screen. This will include the number plate as well as the type of bus.
When your bus approaches, we'll send you the number plate information for your bus. All buses feature our logo and will be easy to spot.
Are my details safe and protected?
Yes.
How can I provide general feedback?
You can fill out the feedback screen upon completion of your ride or email us at contact@thebusondemand.com anytime.
How do I retrieve something left on a bus?
As soon as you realize an item is missing, please let us know by emailing us at contact@thebusondemand.com. Once we confirm that the item has been found, we will let you know when to pick it up at our depot.
Can I change my destination once on the bus?
While we aim to please on every ride, in the event that a change would delay another passenger in the bus or one awaiting pickup, we can't accommodate requests for changes to dropoffs. If you haven't gotten on board yet, just cancel the ride and re-book with the new destination.
Where can I see my past rides and purchases?
You can view any past rides and purchases right in your app under 'Menu' – 'History.'
My driver left without me?
If you were marked as a 'No Show' and you still need a ride, please re-book directly in your app, and send us an email so we can look into what went wrong.
If your app is indicating that you were picked up, please reach out to us through the Contact Us link in the app, so we can cancel that ride and make sure you are able to re-book.
Can my child ride with me?
Children under 13 are welcome in our buses if accompanied by an adult.
How much do I pay for my child?
Other than infants, all passengers, including children, will pay for using the bus on-demand services. The +1 fares will apply to all, including children who shall be accompanied by a full fare-paying adult and pre-booked through the App, as a group.
Can I eat and drink on my bus?
We know that you are on the go, but please help us keep our buses clean and fresh and avoid bringing food and drinks.
Can I bring luggage/buggies/personal items on my bus?
Buses are a shared space, and as such, we ask everyone to limit any personal items to a single piece of luggage or a reasonably-sized bag. Think of it this way – if the passenger who showed up before you had the same-sized item and the bus was at full capacity, would there also be space for your item? If the answer is no, then we can't guarantee we'll be able to take you and your item on board.
Oops, I forgot to press +1 or +2 or +3!
No problem! Please inform the driver while boarding the bus, and we will be happy to change your booking for you as long as places are still available in the vehicle*. If the vehicle is fully booked, we might ask you to make another booking. *Nol card holders only
How many passengers can I book?
You can book up to 6 riders.
How much do I pay for the trip?
The trip will cost AED 5 within the zone, and the interzonal trip will cost AED 7. Additional passengers will cost AED 4.
How many friends and family I can refer to?
You can refer as many family and friends.
How can I reset my password?
You can either log in to Bus on Demand app and click on "Forgot password"; or you can mail us at contact@thebusondemand.com.
Oops! I forgot my item on the bus.
Do not worry your item is safe and it will be returned to UT depot. Reach out to us through the Contact Us link in the app or email us at contact@thebusondemand.com.
Is there is a special area for Ladies? Also, we want to know for People of determination.
We have priority sitting for senior citizens and women with babies. We do not have a special area for people of determination, at the moment.
Have I been overcharged?
Please contact our customer care at contact@thebusondemand.com.
Can I call to check the schedule timing in case of a delay?
Our app works on very smart algorithms and updates you with real-time information. If there is any further assistance required please contact customer care at contact@thebusondemand.com.
Zero Tolerance Policy
Bus on Demand has a strict Zero Tolerance policy. Bus on Demand service platform nor do we tolerate inappropriate behaviour by drivers towards passengers. If you believe that your driver is behaving in a manner that you consider inappropriate or that makes you feel uncomfortable or unsafe, or if your driver engages in conduct that could be considered unlawful or illegal, please ask the driver to terminate the trip immediately. If you feel that you are in imminent danger, please contact the police directly by calling 999. After the ride has concluded, please provide feedback using the Bus on Demand app, or email us at contact@thebusondemand.com to report the issue.